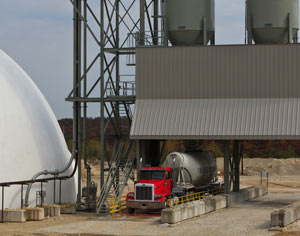 Charah actively identifies and develops markets for the beneficial use of fly ash which improves the quality of many building materials while creating both cost and environmental benefits. Our experience and market evaluation in all aspects of fly ash recycling add value to our power plant clients by allowing an efficient analysis of the market opportunities and logistics costs to determine if the source of fly ash can penetrate and sustain a market position. With the Charah sales team, utility clients can be assured that the maximum revenue from your specific fly ash will be assured and customized solutions to move the maximum volume of fly ash to the markets will be implemented.
Whether your fly ash is a Class C or Class F quality, Charah has extensive experience in qualifying the source and developing a strong and loyal customer base. Our understanding of the utility objectives and the markets needs allows an effective program to be implemented at individual plants or across the utility footprint.
Charah supplies both Class C and Class F fly ash and can work with the end-user to design the appropriate mixes to assure maximum value from the available materials is achieved. Our Quality Control program for all fly ash supplied to the customer will ensure that the performance is reliable.
Charah can also assist customers in identifying and documenting the credits available to support LEEDs points for products that we supply to projects seeking to qualify as "green building" projects. In addition to improving the finish product quality when fly ash is used and a pozzolan, using fly ash in concrete and other products not only eliminates the need to dispose of fly ash in landfills and conserves our natural resources by replacing materials that would otherwise have to be mined and processed for these products. To learn more about Charah's fly ash products, please contact us at your convenience.